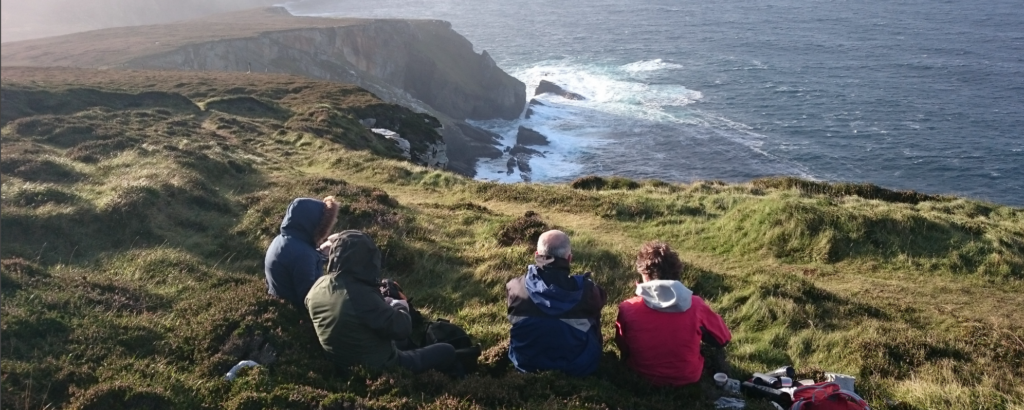 Get in touch 074 9165058
Come walk with us!
We facilitate open days on Wednesdays for people to come and sample the programme (try it out). Contact us on (074) 9165058 and we will let you know a Wednesday to join us.
On a typical Wednesday, we:
meet over a cuppa, upstairs in An tSean Bheairic,
agree on a plan for the day ahead,
go on a group walk,
return to base for lunch, and
have a group session after lunch – sessions focus on personal development.
The programme ends at 3pm and staff are available then if anyone wishes to speak to them.
If you are interested in coming to experience a day with us, please get in touch by email or phone and book yourself in. Contact Christina: christina.greene@hse.ie or (074) 9165058.
Frequently asked questions
Do I need to be really fit to take part in Solas?

This is usually the first question people, who are interested in joining Solas, ask. We usually suggest that you enjoy walking and are able to walk comfortably for 45 minutes. But there is no expectation that you should be very fit and everyone walks at their own pace. There is no pressure to walk at someone else's pace so this is not usually a problem. But as a person attends Solas, they will usually find that their fitness improves and the walks become easier. If you are concerned about your fitness or have a health condition that may affect your ability to walk, please contact christina.greene@hse.ie or (074) 9165058.
What do I need?

We encourage everyone to bring rain gear and good walking shoes or boots. However, we do have some rain gear for people if they need to use it. For people who don't drive and don't have a travel pass, we provide the cost of your bus ticket and lunch is provided also.
Is there a cost?

The programme is free to attend. Lunch is provided free of charge as well as the cost of your bus ticket, where possible. We encourage you to have a good rain jacket and walking shoes/boots – suitable walking shoes are essential. But we have spare rain gear if needed. If you have any questions, please feel free to email us or give us a call.
Do you get wet?

Because of our lovely Donegal weather, many people often wonder how we manage the rainy days. Surprisingly, with a good waterproof jacket and shoes, we don't get as wet as you would imagine. Of course, there are exceptions as Irish weather is so unpredictable, but really we hardly ever get wet!