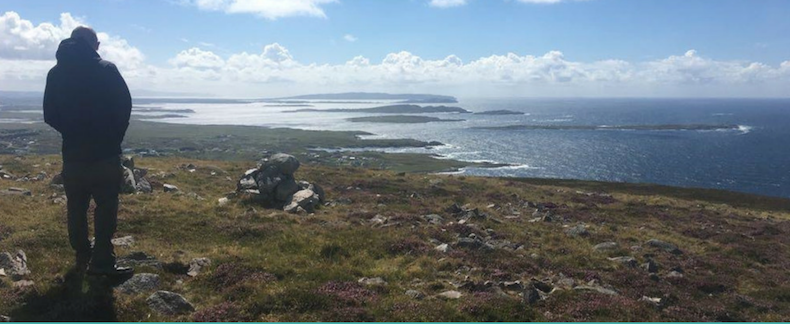 Get in touch 074 9165058
What is Solas?

an outdoor walking programme that supports people in their mental health recovery
a safe place for recovery
The emphasis of Solas Donegal is walking, talking and listening in nature.
Solas Donegal is a free, confidential Health Service Executive (HSE) programme which
has been running since 2005.
Who is it for?

people experiencing mental health difficulties – e.g. anxiety, depression
people open to attending a programme of group walks in nature to support their
recovery
What does Solas aim to do?

Support each person's journey of recovery – it is a person-centred programme.
Build confidence and develop positive, supportive relationships.
Give hope for the future.
Help reduce our sense of isolation.
Provide the opportunity to share experiences and enjoy the interaction with other group
members, a central part of the programme.
Help people have fun in a relaxed setting.
What happens in Solas?

The day is structured as follows. We meet over a cuppa, upstairs in An tSean Bheairic, agree on a plan for the day ahead, go on a group walk, return to base for lunch, and have a group session after lunch – sessions focus on personal development. We use a number of therapeutic supports, including group discussion, reflection, goal setting and mindfulness. The practice of mindfulness brings awareness to the present moment and teaches us to be more compassionate towards ourselves and others.
What are the benefits of an outdoor walking programme?

The natural environment has many proven benefits for improving our health, specifically, our mental health.

Walking is recognised as an excellent form of exercise and connection to others is vital for our mental wellbeing.

Being outdoors in nature, away from technology and the stresses of modern day life, can significantly boost our mood and improve our physical health.

Exercising in nature has also been shown to improve our concentration and creative thinking.

Exercise promotes better sleep patterns and can lower blood pressure.

Walking side by side with other people helps us connect and makes it easier to talk.

Research shows that this helps improve our self-esteem and our ability to cope with the ups and downs of everyday life.

All of this boosts our resilience – our ability to cope.

Our programme is based on an Ecotherapy model which focuses on improving our mental health through connecting with the natural environment. This is also known as Green Exercise.
Where is Solas based?

We currently have two locations in Donegal, the scenic coastal towns of Falcarragh and Buncrana. Solas Buncrana is in partnership with Inishowen Development Partnership.
Donegal is fortunate to have some of the most beautiful green spaces in Ireland with our hills, beaches, forests, and islands! Solas Donegal takes full advantage of this and our walks are different every day.
How do I get a place on the programme?

You can get in touch directly to enquire about joining the programme or you can also be referred by your doctor or mental health team.

How often do I need to attend the programme? How long can I stay on the programme?

The programme runs from Monday to Wednesday.
Participation is time limited, that is, placement can vary from 3 months to 2 years depending on individual needs.
Our Falcarragh programme offers open days on Wednesdays by appointment.
Participants are encouraged to sample (try it for a number of days) before joining the Solas programme.
What other supports are available?

Transport from Letterkenny and surrounding areas is available. Lunch is provided on the programme.